Finance Officer - Transnational Academic Group Ghana
Finance Jobs In Ghana 2023
Jobs In Accra 2023
A Must Read Article: 10 checks to identify fraudulent or scam job offers
Free Tuition Scholarships to Study in UK, US etc.
Click here to join us on Telegram
1. Patiently scroll down and read the job description below.
2. Scroll down and find how to apply or mode of application for this job after the job description.
3. Carefully follow the instructions on how to apply.
4. Always apply for a job by attaching CV with a Cover Letter / Application Letter.
Transnational Academic Group, in partnership with Lancaster University UK, delivers British undergraduate, postgraduate and foundation programmes at its campus in Ghana. As we move onto the next exciting phase of our mission to develop African leaders of tomorrow, we are seeking an experienced, proactive, and dynamic professionals to support and the planning, development and implementation of all financial systems and business processes of the institution. The duties and responsibilities of the successful individual will cover amongst others, the following areas:
Accounts Receivable
Timely invoicing of students to ensure individual accounts are not understated.
Prepare fees schedule and follow up on fee collection to reduce outstanding fees.
Undertake periodic student account reconciliation and resolve any disparities observed.
Prepare weekly, monthly & quarterly ageing reports to management.
Ensure that payment terms/plans are followed by parents/students.
Issue reminders & notices to parents/students on outstanding fees.
Liaise between Finance and Registry on students' data/information.
ADVERTISEMENT
CONTINUE READING BELOW
Accounts Payable
Negotiate price, payment terms and delivery period, etc with suppliers.
Prepare purchase orders & booking invoices in the accounting system.
Undertake periodic supplier account reconciliation and resolve any disparities observed.
Prepare weekly, monthly & quarterly ageing reports to management.
Statutory
Ensure accurate computation of monthly statutory returns.
Prepare monthly PAYE, WHT and SSNIT and ensure timely payments.
Liaise with state agencies to ensure compliance with applicable provisions of the laws.
General Duties
Handle petty cash and ensure periodic reconciliation.
Set up, maintain, and reconcile general ledger accounts.
Prepare vouchers and cheques for payments etc.
Make transactions with the bank – deposits, withdrawals.
Assist in preparation of final accounts and schedules for audit.
Assist in monthly and quarterly preparation of financial statements and any other ad hoc reports as requested by management.
Required Skills or Experience
Person Specifications: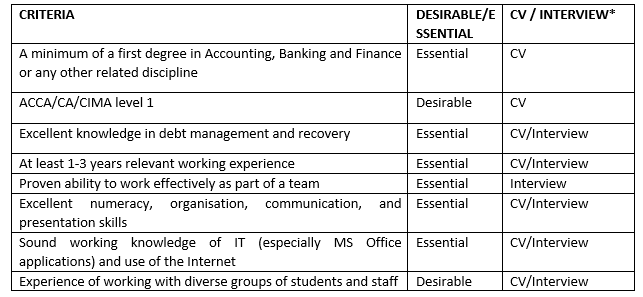 « Go back to the jobs list
RELATED JOBS >> CLICK A JOB BELOW TO VIEW & APPLY
Disclaimer
Do not pay any fee to any Recruiter.
The Recruiter may amend, delete or expire jobs at any time without notification.
The Recruiter reserves the right not to proceed with filling the position.
An application will not in itself entitle the applicant to an interview.